ChannelGard Surface Mount Delineator
ChannelGard Surface Mount Delineator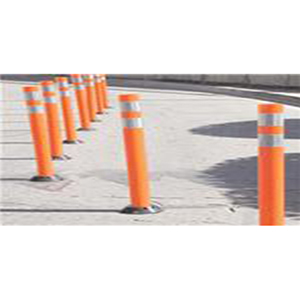 TD 5300 SERIES
Special Features:
Posts can be special ordered to any length you require.
Perfect for parking lots, islands and work zones.
Base is ABS plastic.
Unique pry bar slot on bottom of bases eases removal of base when job is finished or for quick replacement.
Manufactured from a specially formulated plastic compound, utilizing polymer protection and UV stabilizer.
Manufactured using UV protected fluorescent orange, yellow or white colors.
The TD5300 Surface Mount Delineators are currently available in orange, yellow or white.
We can manufacture this product to your desired color.
Specifications:
Dimensions of Tube:
Heights: 18, 24, 28, 30, 36, 42 and 48 Inches.
Width: 3 and 4 inches.
Tube Colors: Fluorescent Orange, Yellow or white.
Tube Material: UV Stabilized Polymer.
Base Material: ABS
Channelgard Delineator is a two-piece design consisting of a reboundable tube and ABS base fastened together with two polymer alloy pins.
Product has molded anchor holes (2) used to bolt down the base for permanent applications.
Pry bar slot located on bottom of base eases removal of base from road surface upon job completion or for quick replacement.